Meet our Therapy dog!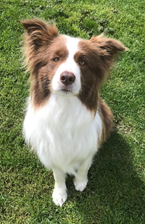 Welcome to Charlie our therapy dog!
Charlie belongs to Pippa who works for a charity called Canine Concern. More information can be found on the letter and documents below.
Charlie has been assessed by Canine Concern as being suitable to visit our school and interact with children. He visits one afternoon a week and we believe he offers the following benefits:
Having a calming effect on pupils and supporting their mental well being
Improving behaviour, concentration and self-esteem
Reducing stress and anxiety
Supporting sensory needs and providing comfort and companionship
Encouraging respect for animals and developing empathy
Helping build confidence in reading and in discussion groups
Please see below for the link to the Google consent form and our risk assessment documents.
https://docs.google.com/forms/d/e/1FAIpQLSfTB_odlRWoYBZP4Prfk9ToC0TqRIrsqVhftcHEuWGBik1PdA/viewform?usp=sf_link